4 Reasons You Should Try Night Golf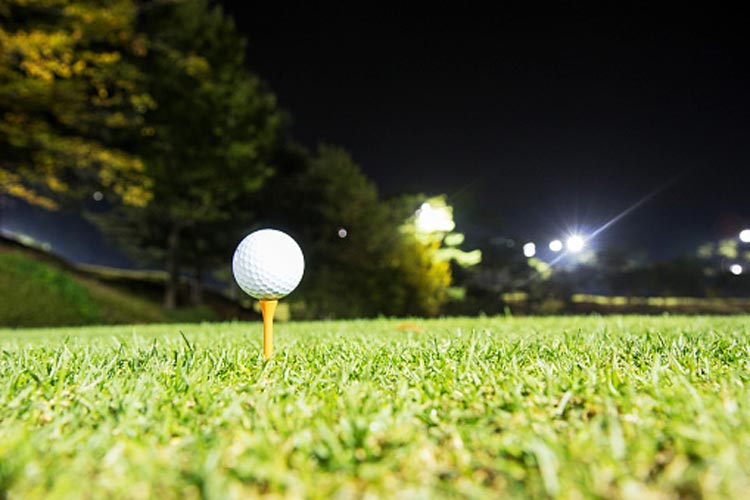 If you're one of those golfers that cringe when daylight saving time ends (taking an hour away from your golf time along with it), you may want to consider a growing golfing phenomenon—night golf. An Orange County golf course offers the perfect opportunity to play under the bright lights and glowing stars.
What Is Night Golf?
As the name implies, night golf is simply playing your favorite sport after the sun goes down. As darkness descends and the overhead lights go on, the course takes on a feel of a stadium and allows you to share a special experience with friends and family (or even just yourself).
An Orange County golf course may even offer a "very dark" experience, with glow golf balls and illuminated targets. It's definitely a different affair than its daytime counterpart.
For those who want to try night golf, we'll list some of the differences between this type of golf and your average course run—as well as give a few reasons why night time golfing is worth your consideration.
How Is Night Golf Different From "Normal" Golf?
It goes without saying that the biggest change during night golf is that areas around the golf course are lit up. Floodlights are necessary to make sure your golf shots actually land in the holes, but they emit a different light than the light of the sun. Shadows emerge and fairways are the only part of the golf course lit by their bright rays.
Surprisingly, young adults between the age of 18 and 34 represent golf's largest participant base. This group is in the midst of busy businesses and family life and often find it difficult to head to the course during the light of day.
A nighttime golf course offers those people that are too busy to golf during the traditional 7-5 time slots a viable option that fits into their busy schedules.
Golf courses across the country and around the globe—even all the way in the United Arab Emirates with the Abu Dhabi Golf Club— have installed floodlights and opened their courses for golfing under the stars. Here are a few tips and best practices to consider before heading to the course at night.
While there are some challenges to overcome, there is also some great fun to be had. Let's cover the four main reasons why every golf player should try playing on a golf course at night.
1. A Party Atmosphere
The revered sport of golf is usually played in hushed tones, with competitors glancing sideways across the course when someone speaks just as they're ready to take a swing.
Night golf takes on an ambiance of a party after dark. Gone are the rigid rules and regulations, as well as the pressure to have a perfect run on a par 3 course.
Friends and family gather together for a round of night play to have fun and enjoy the unfamiliar and the beauty of a dark Orange County golf course with lighted fairways. In fact, a country club might even swap out the traditional golf ball and instead offer glow balls to make playing dark golf a little easier—and of course more fun!
Playing golf at night is for those unafraid of a little adventure. Instead of keeping the usual stroke score, consider making up a game and keeping the mood light and lively.
You'll be surprised at the party mood night time golf evokes as well as the need to arrive early due to an overfilled parking lot. At the very least, spending your night at a golf course beats spending it in a noisy bar!
2. A Chance at Improving Your Skills
Yes, that's right, playing on golf courses at night actually offers an element of improvisation that can make you a better golfer when playing on an Orange County golf course in the light of day.
Changing your learning environment is, after all, one way to keep those synapses firing. It's like learning a new language, with different sights and sounds leading to a different level of concentration and a more relaxed swing.
You won't be playing the same par 3 at night that you do in the day. Depth perception is different and you can't see the ball as well as it sails through the last 100 yards. Control becomes more important than ever, not only to increase your chance at victory but also to maintain safety and avoid hitting your fellow players.
3. A Different Perspective
Whether the sports enthusiast's golf club visits consist of teeing off at the driving range or the back nine, most golfers will tell you that their playing gets better with a change of perspective. Seeing things from a different viewpoint allows for those "ah-ha" moments.
Golfing at night is like playing a new course on steroids. Everything is different. Nighttime golfers report their golf clubs feel different, their swing is more pronounced, even water hazards create less tension. One sense is overriding the other--less vision, more tactile.
4. A Little Less Sweat and A Little More Room
While Fountain Valley boasts 276 days of sunshine and an average July high of just about 78 degrees, many golfers are not so fortunate to dwell in the land of perpetual sunshine under 100 degrees. For those that live in the shade or only come out at night in the summer (think Texas), golfing at night opens up three more months of practice and fun.
Even those who live in hotter areas like Florida would do well to try bringing their golf club to the course at night. Until night time golf catches on with mainstream golfers, you can count on reduced crowds and more mulligans.
Best Practices for Golfing at Night
Around the world, you'll find a growing number of golf courses keeping their links open as dusk settles into darkness. Here's a guide to the two best practices for night golfing that can help you get the most out of a nighttime round.
Trust Your Swing
If you've ever played the game where you had to close your eyes and fall back into a friend's arms, that's kind of the feeling of playing a round of golf at night. It's time to trust all of those lessons and hours spent swinging and pitching and putting.
Because your vision is diminished, your other senses come alive. Now is the time to focus on how playing golf actually feels without overthinking it. Are you leaning over the ball, following through, and keeping your head down? Nighttime is a great time for getting back to golfing basics.
Remember to Have Fun
Like many sports, most golfers take the sport seriously. It is, after all, a competitive sport that demands consistent practice to improve one's abilities.
Heading to a par 3 course at night requires a different approach. Simply put, it's a little less intense and a lot more easy-going. Enjoy the lights and camaraderie and don't berate yourself when your skills aren't quite up to par.
Mile Square Golf Course, a premier Orange County golf course in California, offers two professionally designed golf courses as well as a gorgeous event space. Our golf course is extremely beginner friendly, whether you want to play under the stars or enjoy a round of mini golf.
What's more, our team is there to guide you through any questions you may have, from scheduling the right tee times to even proper techniques for scoring holes. Call us at 714-962-5541 to schedule your tee time at Mile Square Golf Course today!