5 Alternative Golf Games to Try Out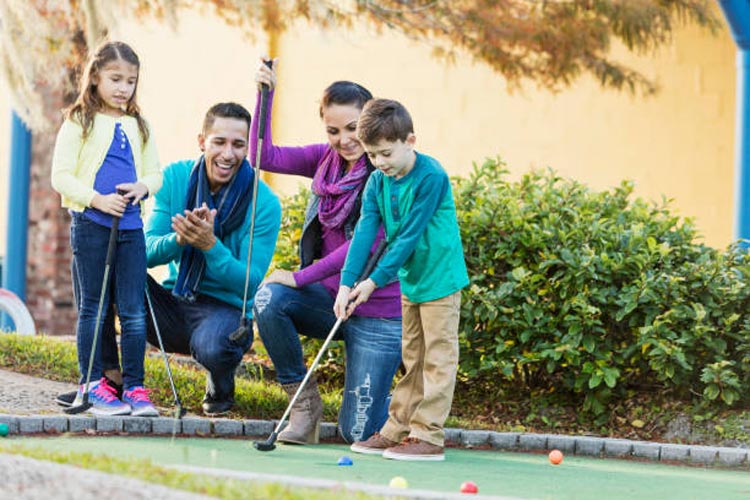 Tired of the old, traditional golf formats that you play with your family and friends? Or maybe you want to spice things up and make it more fun for your next round with your partner, kids, or colleagues? The best thing about golfing in Southern California is that there are many exciting variations and formats that you can explore at your favorite Orange County golf course.
Mile Square Golf Course in Fountain Valley, Orange County showcases a spectacular night driving range with top-notch facilities that allow kids, adults, and golfers of all skill levels to breathe new life into the games by making them more exciting and entertaining.
Top 5 Alternative Golf Games You Don't Want To Miss Out On
In this article, we give you a rundown on some of the popular alternatives so you can level up your game and have a great time playing on our premier golf course in Fountain Valley, Orange County.
Prepare those golf balls and golf carts—make sure you are in good condition so you can hit the ground running on your next visit to the greens. Who knows? Maybe one of these games can score you that great business deal you've been eyeing.
Bingo Bango Bongo
This amusing game is best played by two to three players of different skill levels. Newbies, however, are more likely to benefit from this relatively easy game because they won't have to worry about pars and birdies.
The game rewards a point for each achievement on a hole. The first player to get his or her ball on the green gets a bingo. Bango is for the golfer whose ball is closest to the pin after everyone has reached the greens, and a bongo goes to the player who gets to hole out first.
The player with the highest points at the end of the round is the winner. Double points can be given to a player who sweeps all three points on a hole. There are about 54 points up for grabs so you wouldn't want to bungle your shots.
Skins
Dubbed as the mother of all golf games, this classic can be played by any number of players. Each hole has a designated point value or amount of money. The person who records the best score on a hole wins the skin and whatever the skin is worth.
Holes, however, carry over if there is a tie. More ties mean the value of the skin will be greater. The points will be carried over to the next hole until one player wins a hole outright to claim the points.
Chapman
This long, two-man event may make or break a friendship, but we're pretty sure that the bond will stay strong as long as no one plays the blame game when one player is left with a tough shot. In the game, each player tees off and then hits the other's ball for the second shot.
After both players have hit the first two shots, they must choose which of the two balls to play with for the remainder of the hole. From there, players must alternate shots until the ball is holed.
The player who gets the lowest score wins!
Scramble
Scramble is an all-time favorite among amateurs, handicappers, and professionals alike because it features flexible, relaxed rules and it doesn't put too much pressure on players to focus on individual scores. Plus, the format can easily be adjusted to accommodate teams of two, three, or four golfers.
Each player on the team tees off. After the first tee shots, the team then decides which is the best tee ball or shot, and all members play the next shot from the chosen spot.
A player may place the ball within a club length of the best shot's mark and must remain in the grass. If the best ball is in the rough, then all balls must be in the rough.
The process of taking another stroke, picking the best shot, and hitting the ball from the mark continues until the teams complete all holes. The team with the fewest cumulative shots taken is the winner.
Alternate Shot
Best played by foursomes or two couples, the alternate shot is similar to the Chapman but much more challenging and exciting. In this game, each team decides which player tees off on even number holes and which one on odds.
From there, the players will then take turns at every hole throughout the 18 holes. The team that has the lowest strokes to complete the hole wins a point.
This game can be pretty intense, so it's best to play it on a quiet, great course in summer—when the sun is below the horizon for a great twilight.
Practice Makes Perfect
Want to take your skills to new heights and hone in on your swings so you can dominate these alternative golf games? Going to our large driving range at Mile Square Golf Course located in Fountain Valley is the perfect way to improve your game and learn all the traits that a great golfer should have.
With an elegant clubhouse, innovative practice facility, two championship courses, and beautifully manicured putting greens. Our lighted driving range offers many opportunities for players to practice their short game and long holes, perfect the distance of their golf club and know what golf club to use, develop muscle memory, and build on their stance and follow through.
Not only can this Orange County night driving range keep you in excellent condition for a great round of golf, but it also gives you a refreshing way to enjoy the outdoors.
Choose the Right Night Driving Range in Fountain Valley
What better way to escape the hustle and bustle of the city than visit our night driving range in Orange County and admire the aesthetic putting greens, enjoy the fresh air and serenity, and bask in nature's splendor.
No need to fret if you want to explore stopovers nearby. Our nice driving range in Fountain Valley, Orange County is conveniently located near recreational hotspots in Santa Ana, Costa Mesa, Lake Forest, and Newport Beach.
Book your tee times with us and see how this favorite course can exceed your expectations. From a good driving range to professional golf lessons, superb facilities, impeccable service, and more, Mile Square Golf Course in Fountain Valley, Orange County is a great place that delivers pro golfer experiences so you'll never be scared of a championship course anymore.
Feel free to get in touch with us to learn more about practicing at our night driving range, hosting an event, or how to participate in one of the many tournaments at our Orange County Golf Course.
We're looking forward to hearing from you soon. Contact us at Miles Square Golf Course in Fountain Valley today.