Golfing Etiquette 101: How to Conduct Yourself on the Green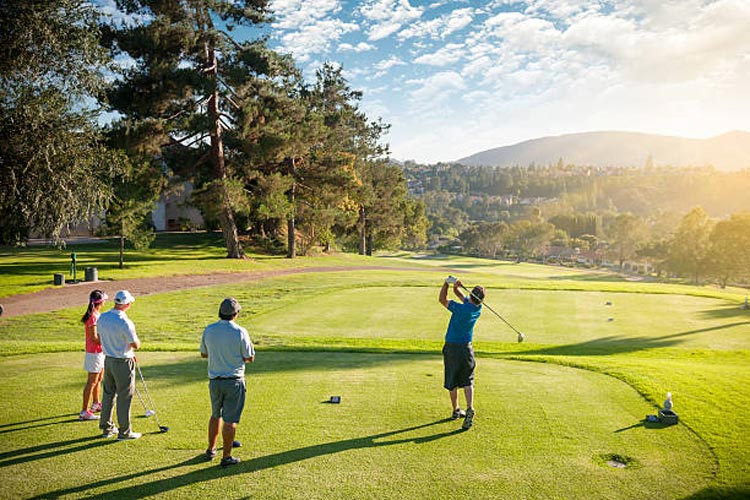 Are you new to golfing? If you're just getting started with this unique sport, it's important to learn golf course etiquette. The rules of golf will help you enjoy the sport and get along with other golfers out on the green.
These golf etiquette basics will come in handy whenever you're out on the putting green at an Orange County country club.
Be Friendly
This is the golden rule of golf etiquette. Treat others with respect at all times—even if those who aren't your playing partners—so you can keep the golf course a pleasant place to be. Whether you're on the fairway or at the driving range, try to be polite and encouraging with other players.
Everyone is there to play and learn more about golf, no matter what their skill level. A few encouraging words can go a long way, and even help you forge friendships.
Make Use of the Driving Range
The practice green has plenty of uses, and it's a great place to hone your skills or learn the ropes before committing to a full golf game. Some golfers visit this area to relax or get some golf in when there isn't time for a full 18 holes.
Take advantage of this area to get one or two practice shots in if you're new to the sport!
Learn the Dress Code
Like most other sports, there's a style of dress associated with golf. Many golf courses even have a dress code requiring certain attire. Usually, stricter locations will require a shirt with a collar and slacks, shorts, or skirts. Denim isn't traditionally allowed, but some informal locations will allow it.
There are plenty of places to find clothes designed specifically for the sport, from golf shoes to special, breathable shirts and skirts. You're sure to find something both stylish and functional.
Arrive on Time
Chances are, your golf course runs on a tight schedule, so make sure to arrive a little before the scheduled tee time. You might notice that some times are very specific– you'll see tee times planned out down to the minute, rather than at the hour mark.
Most facilities space out the timing between groups to allow as many people to play through as possible. Tardiness isn't usually tolerated, and you could lose your spot by showing up late. Remember that all the golfers after you are affected by your timing.
If you show up early enough, you might even have time to get some practice swings in.
Be Prepared to Move
Whenever you play golf, your own speed and movement through the course is tied up with the groups around you. You can only move on to the next hole after the group in front of you is done with it. In the same vein, the group behind you is affected by your pace throughout the game.
It's always good manners to keep your pace as close as possible to the group ahead of you. A recommended speed is about 15 minutes per hole, which will put you in shape to complete a full game in about 4 hours. Try using a golf cart to get to the tees more efficiently.
Keep Track of the Putting Order
Traditional rules dictate that whoever earned the lowest score on the previous hole played gets to take the first swing when you start at a new hole. When you're continuing at the same hole, though, the person with a ball furthest from the hole gets to play first.
Some people prefer to play by the rules of ready golf to speed things up. With this set of rules, all players will stand by their golf balls with their shots lined up. The idea behind this form of play is to encourage golfers to be prepared for their turns, instead of waiting for their turns to start preparing.
In casual games, you can use either of these options. In a more formal situation like a golf tournament, you can expect a stricter, more traditional approach to hitting order.
Watch Your Golf Ball
On a golf course full of other players, how can you keep track of your golf ball? Things can get confusing when you're playing with a group.
There are a few options available to help you keep track of your ball. Some people like to put marks on their balls, including a straight line that will help you track a ball's roll. You can also sign your ball with your initials or a special symbol to make it easier to find. That way, you can keep your focus on the pin and getting the best possible score.
If your ball lands on the green, you'll need to use a ball marker to track the location. In this case, a ball marker is a flat token or something like a coin, and it helps players keep track of all the different balls. You can buy them at any golf pro shop.
Stay Out of the Line of Fire
When a player is lining up a shot, it's only polite to stay out of their way and leave them free to swing as they please. It's easy to unwittingly block someone's path or view of the pin, so stay alert to avoid distracting people.
If you do walk in front of someone preparing to swing, do your best to step over the line of grass leading to the hole. It's possible to leave footprints on the grass that can alter the way the ball will roll, and that can ruin someone's shot.
Use Golf Carts Responsibly
Carts can be seriously useful when it comes to moving your heavy golf bag around the holes, especially when you're in a group. They're huge time-savers and can help you keep pace with the other groups.
When you're using a golf cart, the best course of action is to follow the signs that show where you can and cannot drive. The best way to avoid any issues is to stick to the cart path, and drive carefully over grassy areas.
Leave the Course in Good Condition
Even the best putter might sometimes leave behind a pitch mark or two after an intense swing. Between ball marks and divots, a golf club can do some serious damage to the greenery.
It's common courtesy to repair any pitch marks in the tee box before moving on from the area. Whenever you play, make sure someone packs a divot tool. It's a cheap, easily accessible tool that will allow you to repair any marks on the putting green, leaving it ready for the next player who comes along.
Brush Up On Your Golfer Etiquette at Mile Square Golf Course
A great golfer isn't born overnight. Becoming a veteran player requires more than a practice swing here and there (and definitely more than a few missed practice balls)—it also requires knowing how to conduct yourself on the course.
Now that you know the rules of golf etiquette, you're ready to grab your bag and hit the green with confidence! Contact us today at 714-962-5541 for more information or to make reservations at our Orange County country club.