The 12 Best Golf Movies of All Time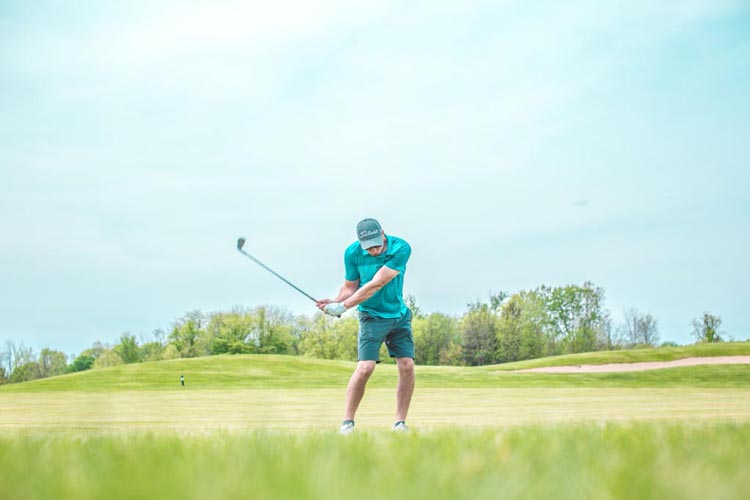 Every sport has its fair share of screen time. If you're an avid golfer getting ready to tee off or you're a casual golfer looking for some good movie on a sport you enjoy, check out our list of the best golf movies to watch after having a fun game with friends at a night driving range.
We looked through Reddit and ranked all the golf movies based on their reviews on IMDB and Rotten Tomatoes so you don't have to.
Here is a list of 13 golf movies ranging from the 1950s to 2016—ranked from highest rating to lowest, and with no average rating going below 50% guaranteed to whet your appetite to book tee times.
Caddyshack (1980)
Golf with a little bit of comedy? This movie gives you the right balance, most people agree hence Caddyshack has since gained a cult following and remains to be a staple movie about golf for any golf lover.
With its superb comedic timing and underdog wins narrative, this movie will make you laugh and cheer for the characters at the same time.
The Caddy (1953)
Everyone loves a little bit of music, that's what The Caddy brings to the fore. Combining sport and music in this musical comedy, this movie shows how the shy but gifted golfer, Harvey, acts as a caddy to his friend, Joe, and how their relationship turns sour before recovering.
The movie also follows the development of Harvey overcoming his fear of crowds and eventually becoming a successful entertainer with his friend, Joe.
Pat and Mike (1952)
With most movies listed here starring male golfers, Pat and Mike is a refreshing twist. Featuring Katherine Hepburn as the female golfer, Pat, this romantic comedy shows how a college athletics instructor turned golfer leaves the overbearing shadow of her fiancé with help from a shady sports promoter and love interest, Mike Conovan, played by Spencer Tracy.
The Greatest Game Ever Played (2005)
The Greatest Game Ever Played is a standout sports movie even among so many underdog sports movies in the cinema. This biographical sports film based on real-life golf champion, Francis Ouimet, shows how an amateur golfer goes on to win the U.S. Open despite the odds being against his favor.
But where the film really stands out is in its depiction of social struggles and character development, not to mention, the first-rate set design and costumes.
Happy Gilmore (1996)
Happy Gilmore is a sports-comedy movie starring Adam Sandler, who plays a hockey player who has a surprising talent for golf. As Gilmore's grandmother is in danger of losing her home, he enters a golf tournament to try and win enough money to buy it back.
With Sandler's signature wit, Gilmore becomes an unusual golf hero who makes the audience laugh and cheers him on at the same time.
Seve: The Movie (2014)
Seve: The Movie is a biographical sports film cum drama-documentary about Severiano Ballesteros, a Spanish farm boy who triumphs over adversity and goes on to become the greatest professional golfer of all time.
The movie shows Seve as he tackles one obstacle after another that's keeping him from playing the sport he loves. With its gripping sports reportage and well-placed dramatization of Seve's childhood, this tear-streaking movie is one that golf lovers will never forget.
Tin Cup (1996)
This sports film offers a romantic twist to your typical underdog narrative. Tin Cup is about a washed-up ex-pro golfer who joins the PGA Tour in an attempt to get back at his successful rival and win his rival's girlfriend.
With equal parts comedy, compelling side plots, and a healthy dose of golf, Tin Cup is a golfer's movie from tee-off to the final putt.
Tommy's Honour (2016)
If you love golf, what better way to learn more about your favorite sport than by learning from Scottish father and son golfing champions, Old Tom Morris and Young Tom Morris?
Tommy's Honour is a historical drama that follows the complex relationship between father and son, both pioneers of professional golf, as well as Young Tom or Tommy's journey to becoming a golf superstar by relying on his skill, business acumen, as well as being street smarts.
The Legend of Bagger Vance (2000)
This star-studded sports film features Will Smith, Matt Damon, and Charlize Theron. The screenplay is a movie adaptation of the 1995 book by Steven Pressfield, The Legend of Bagger Vance: A Novel of Golf and The Game of Life.
It shows how a destitute golfer receives the help of a mysterious caddy, the enigmatic Bagger Vance, and goes on to become a great golfer teeing off alongside stars.
Bobby Jones: Stroke of Genius (2004)
Bobby Jones is an iconic golfer who won all four of men's major golf championships in a single season.
This biographical film follows Jones, who has since become one of the most influential figures in golf history, as he quickly rises from amateur to professional and tackles one of the greatest challenges in his life, deciding whether to keep playing or retiring from the game.
The Short Game (2013)
While not a movie, this documentary is a great entry-level golf film that even non-golfers can enjoy. The Short Game follows the journey of seven young golfers as they descend into the world-famous Pinehurst Golf course in North Carolina and strive to be the next world champion.
The young golfers in the film come from diverse backgrounds and highlight the challenges of youthful competition through a series of interviews, showcasing small, wonderful moments throughout the competition. Watching this film, lets one see the struggle of getting to the top.
Goldfinger (1964)
Though not a movie about golf, the golf match in this 1964 film remains one of the most iconic golf scenes in cinema so we just had to include this in our lineup. With Sean Connery playing golf against Gert Fröbe in this third installment in the James Bond movie series, this golf match in Stoke Park is a classic that any serious or occasional golfer can't miss.
Though brief, the golf match between Bond and Goldfinger, wagering a bar of Nazi gold against £5,000 is memorable with Bond tricking Goldfinger into losing the match despite his attempts to cheat Bond.
This movie has also ranked the top because it's the first Bond movie that won an Oscar and it's the movie that brought Bond into the spotlight.
Book Tee Times
Ready to tee off? Book tee times with Mile Square Golf Course, Orange County's premier public golf course with the finest putting greens and courses designed by famed golf course architect David Rainville.
We have two challenging 18-hole courses and an impressive night driving range that's sure to satisfy your golf needs whether you decide to golf during the day or at night.

To book tee times or drop by to get a private tour of our beautiful course, contact our team at Miles Square Golf Course today!